"We love the challenge of running our own business and are so proud of our consistent 5-star reviews."
- Suzanna Barry, Co-Founder of Green Pedal Cycles
When David and Suzanna Barry bought their first E-bikes, they had no intention of turning it into a business.
"We purchased them for our own personal use," explains Suzanna.
"Echuca Moama is such a scenic destination, with many fantastic river tracks and trails. Soon, we realised we wanted visitors to the region to be able to experience the same enjoyment of exploring our destination via bike."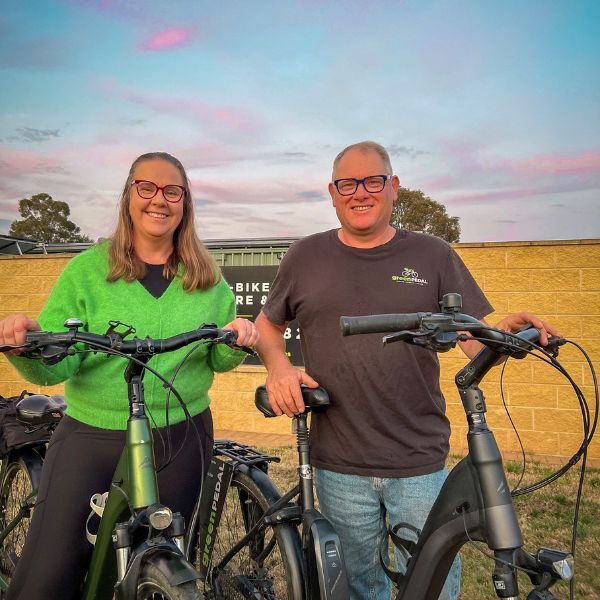 The couple, who have lived in the Echuca region for 25 years, decided to purchase a fleet of 10 regular bicycles and 20 high quality E-bikes with the best battery range and comfortable seats to ensure maximum enjoyment for their customers.


"E-bikes make riding accessible to many people, as groups with different levels of fitness can ride together - using as much or as little electric assistance as they choose," Suzanna says.


"David designed and built a bike trailer to transport the bikes to the customer, a key feature of our business model. Green Pedal offers free delivery of bikes to holiday makers in Echuca Moama."


In addition to the bike hire, David offers an Echuca Scenic E-Bike Guided Tour and a Bike to Winery Tour most days. Full day tours on the O'Keefe rail Trail tour are also scheduled at various frequencies.


"We love the challenge of running our own business. The customer interaction is something David finds most rewarding, and it is always a real highlight to hear the feedback from customers. We're so proud of our consistent 5 star reviews that we receive and often people tell us that the Green Pedal E-Bike experience has been the highlight of their holiday to Echuca Moama."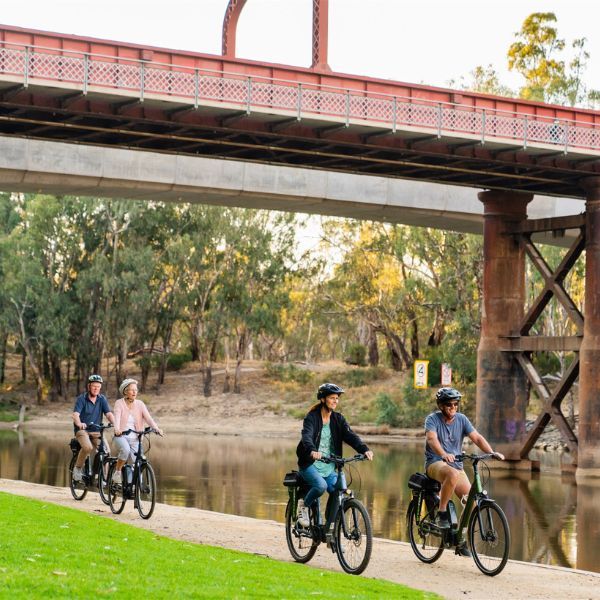 Green Pedal's business plan has always been centred on a strong digital presence to encourage online bookings. Their ultimate aim is to have customers pre-book their bike hire or tour to help optimise time.


While a digital strategy has always been in place, Suzanna quickly discovered there was a lot to learn when it comes to building an online presence and 'having an online booking system and a website was only the beginning.'


In a bid to increase her online expertise, Suzanna joined the Digital Solutions - Australian Small Business Advisory Services program to further her knowledge and skills in digital marketing.


The results speak for themselves.
"The mentoring has been invaluable to Green Pedal. In particular, I've increased my knowledge in relation to SEO and blog writing. Thanks to the support of my mentor, Green Pedal is now ranking #1 on Google for Things To Do in Echuca. A number of other keywords and long tail keywords are also now ranking on page 1."
Thanks to the program Suzanna has become more familiar with online tools that help with SEO. Her mentor - who has extensive SEO experience - has also helped tweak title tags, optimise images and expand the content of blogs.


"The most significant changes have been in relation to title tags and structure of blogs. It has made a significant difference with the organic website traffic and forward bookings."


Would Suzanna recommend the Digital Solutions - Australian Small Business Advisory Services program to others?


"In a heartbeat!"
Green Pedal Cycles is based in the Echuca Moama region, and accepts bookings online. If you're interested in growing your business with the Digital Solutions - Australian Small Business Advisory Services program, see here.
I'm already an
ASBAS Digital Solutions member.
I'm new here.
I want to register for the program.
Member's Portal Update

All existing Digital Solutions (previously ASBAS Digital Solutions) program members received an email with a direct link to claim their member account. If you are having trouble claiming your new account, please email [email protected].
Digital Solutions Mentoring Access Code

On the next page you will be prompted to enter the following Access Code:


ASBAS2021
Digital Solutions Mentoring Notice


Thank you for your interest in our mentoring services. Please note, our mentoring services are currently unavailable. We will keep you posted when they will resume.



Created with