Digital Solutions - Australian Small Business Advisory Services
The program provides free and low cost, high-quality, digital advisory services for small businesses in metro and regional Victoria.
Free workshops and digital courses
Access to subsidised mentoring
Register for an initial phone consultation to discuss your business needs and receive guidance on how the program can best help you.
WHAT DOES THE PROGRAM COVER?
The Digital Solutions program is an advisory service for small businesses who are wanting to upskill in (or outside of) the online marketplace. Whether you want to attract more customers online, develop a website, increase your social media following and engagement, or improve your business's online security, this is the program for you.

The Digital Solutions program covers digital and general business topics. Digital topics include websites and selling online, social media and digital marketing, using small business software, and online security and data privacy, while general topics include business strategy, finance, human resources, resilience and wellbeing, and COVID-19 stimulus packages for small business.
EDUCATION PORTAL


Learn step-by-step how to bridge the gaps in your business with our comprehensive online learning portal. Our easy-to-follow and well laid out courses provide all the information you need to digitise your business.
FREE WORKSHOPS AND WEBINARS
Attend our weekly online workshops run by leading industry experts on a range of topics such as digital marketing, social media, SEO, website building, accounting software and more.
ADD-ON MENTORING


As a program participant, you are eligible to receive up to four hours of low-cost, one-on-one mentoring. Choose from 50+ mentors who can help you determine the unique needs of your business and develop a digital strategy.
PROGRAM SUCCESS STORY
"We've felt nothing but support"
Billy and Max joined the Digital Solutions program in early 2019 with their South Indian Street Food business, Babaji's Kitchen. "ASBAS Digital Solutions has given us access to experts. It's helped me to understand what's required for SEO and it's given me the confidence to speak to social media experts and come away understanding it, instead of feeling lost."
PROGRAM REGISTRATION
To access the program's services, you must be operating for-profit in Victoria with an active ABN and have under 20 full-time equivalent employees. Sole traders can also access the program.
REGISTRATION
To join the program, you need to fill out our registration form. You will be asked to provide your contact details, business information and indicate what digital tools you are currently using.
BUSINESS CONSULTATION CALL
You will receive an email prompting you to book you Business Consultation call. This is an opportunity to discuss your business needs and learn how the program's resources can help you meet them.
PROGRAM ACCESS
After the call, the Business Advisor will provide you with access details for our education and mentoring portals, as well information on upcoming workshops you can attend.
PROGRAM HIGHLIGHT
ACCESS TO COURSES
We have 15 bite-size courses available for free for the duration of the Digital Solutions program. They offer supporting material designed to increase your understanding of workshop topics, as well as additional modules to take your learning to the next level.

These self-directed courses allow you to set your own pace and prioritise the topics that are the most relevant to you and your business. It includes written lessons, webinar replays, and (non-assessed) homework.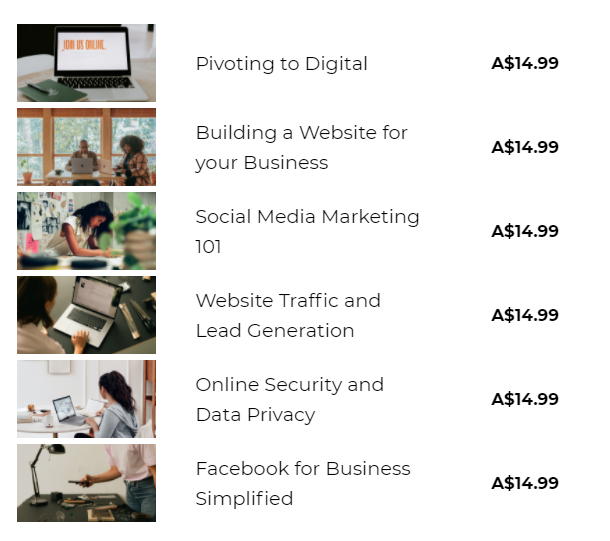 PROGRAM INFORMATION
Digital Solutions Program Experience
Watch Jeeva & Suji from Light & Glo talk about their experience with the program and how the support they have received is helping their small business.
FREQUENTLY ASKED QUESTIONS
Am I eligible to register?
To access the program's services, you must be operating for-profit in Victoria and have under 20 full-time equivalent employees. Sole traders can also access the program. Your business must have an ABN.
What are the costs involved?
Workshops, webinars, and the online learning platform are all FREE. You can access one-on-one mentoring for a cost of $25 for 2 hours (up to 4 hours in total) as an add-on program service.
How much time do I need to dedicate to the program?
The initial program phone call will last approximately 30 minutes. Our business consultant will use this time to learn about your business' needs and ascertain how you can get the most out of the program. They will recommend pertinent topic areas and upcoming workshops best suited to your needs.After that, you have 30 hours to spend attending workshops, webinars, and—if you choose to add on this low-cost option—mentoring.
When does the program end?
The program runs until 30 June 2021. In that time you can access your allocation of workshops and webinars. Add-on mentoring is likely to reach capacity before that time, so we recommend booking early.
Where are the workshops held?
Due to COVID-19, workshops are currently being delivered online. Once restrictions allow for face-to-face workshops to resume, they will be held in various locations across metropolitan and regional Victoria.
How will my small business benefit?
Your business will become more equipped to compete in the online marketplace. Learn how to build a website, implement digital marketing strategies, connect with social media and much more!
Member's Portal Update

All existing Digital Solutions (previously ASBAS Digital Solutions) program members received an email with a direct link to claim their member account. If you are having trouble claiming your new account, please email getsupport@melbourneinnovation.com.au.
I'm already an
ASBAS Digital Solutions member.
I'm new here.
I want to register for the program.
Digital Solutions Mentoring Access Code

On the next page you will be prompted to enter the following Access Code:


ASBAS2021
Digital Solutions Mentoring Notice


Thank you for your interest in our mentoring services. Please note, our mentoring services are currently unavailable. We will keep you posted when they will resume.



Created with