"We love being able to share our passion for running and community with others. Meeting new people through running is such a privilege," says Melissa Marshall, founder of The Runners Hub.
The recreational running group, which launched in March 2021, offers custom run coaching, running groups, strength training and related allied health services.

"Our mission is to encourage runners and the run-curious from beginners to elite level, to set and reach their goals. The Runners Hub is inclusive, socially and environmentally conscious, supportive of each other.

It's also a place to share knowledge and ideas." And of course, share their passion for running.

The Runners Hub's value proposition is centred on its values of support and inclusivity.

"We welcome ALL runners. We have members aged 18-70, some who have run over 300 marathons and others who are yet to run their first half marathon - and everything in between. We support all runners to achieve their goal."

"The runner is at the centre of our 'hub'; in addition to coaching, we also provide related services that help them reach their goal.

This includes strength training and access to yoga, physiotherapy, podiatry and even floating and infra-red sauna to help them remain injury-free."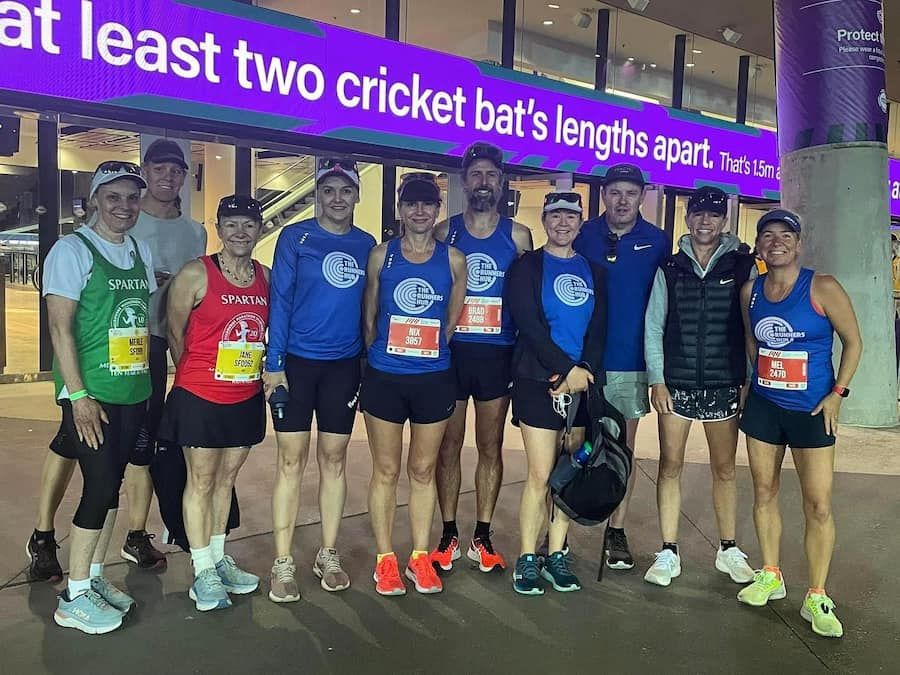 For Melissa and The Runners Hub team, it's empowering to be agile in their ability to adopt new ideas and expand what is possible for a community running group.
But of course, there have been challenges along the way. Not long after starting The Runners Hub in March 2021, Melbourne went into another COVID-10 lockdown with exercise restrictions.


In order to survive, The Runners Hub had to take their business online.


"Throughout the lockdown, we had to adapt as we were unable to offer our usual face-to-face run groups. We delivered our run sessions and strength training via a weekly email with a video link. This was offered to our members free of charge to keep them motivated and moving during the lengthy lockdown."


Expanding their business online proved so successful that Melissa continued to do it even after the lockdown ended and their face-to-face groups resumed.


"Our business can use technologies to scale; our run groups are limited by factors like runners' availability and coach's time. Online coaching is something we will be focusing on for the next 12 months to grow our member base. We deliver custom-run plans and strength training via digital training apps and offer ongoing personalised support through calls."


"My business partner and I both have other commitments - as The Runners Hub is our side business. So, time to spend on the business can be difficult to find."


"Digital solutions seemed like a great way to access external expertise - to get fresh perspective and guidance to help us improve our reach and grow our business."


Throughout the program, Melissa and her business partner worked with a mentor and refined their digital strategy.


"We have outlined our social media content pillars, focusing on our strengths and what our ideal customers are looking for. We have also simplified our offering."


"Our mentor offered some great suggestions of things we hadn't considered; such as using a virtual assistant. We're both so time-poor, so any ideas to help us work smarter are welcome."


"Having an external and fresh perspective on our business and our vision for where we want to take it was extremely valuable. It was simple to apply and then access the service, and the follow up was simple too."


"I would absolutely recommend this program to anyone who is looking for digital marketing consultation for their business. It's a great way to discuss ideas with a digital marketing professional. It helps you consider strategies and approaches that perhaps you hadn't thought of before."


The Runners Hub
is located in the Bayside and South Eastern Suburbs in Melbourne. If you'd like to learn more about the Digital Solutions program -
see here
.
I'm already an
ASBAS Digital Solutions member.
I'm new here.
I want to register for the program.
Member's Portal Update

All existing Digital Solutions (previously ASBAS Digital Solutions) program members received an email with a direct link to claim their member account. If you are having trouble claiming your new account, please email [email protected].
Digital Solutions Mentoring Access Code

On the next page you will be prompted to enter the following Access Code:


ASBAS2021
Digital Solutions Mentoring Notice


Thank you for your interest in our mentoring services. Please note, our mentoring services are currently unavailable. We will keep you posted when they will resume.



Created with