Franziska Weiss and her husband Tom own and run the Jamieson Caravan Park in Victoria's North-East. She joined the Digital Solutions program in late 2019, originally for assistance with social media marketing, but found welcome support after COVID-19 hit and caused unforeseen challenges for the business.

"As the owners," Franziska says, "we are always improving the facilities, guest services, and working together with council and local tourism organisations."

As part of these constant improvements, the next logical step was to enhance the business's online presence. While guests can book their holiday stays on the caravan park's website homepage, Franziska shares that the website was established when they first bought the business. They otherwise didn't have an active digital presence. "We weren't online. Holidays are still very much an offline experience."

A group workshop on social media run by the Digital Solutions program in partnership with her local council prompted Franziska to join the program.

"Social media is evolving and changing rapidly," she says. "I find it important to stay up to date."

While the business did not have a digital strategy in place, she understood that Jamieson Caravan Park needed to be online as much as possible for guests to find them. It was important to her to provide as much information as possible online, make it easier to be found on Google, advertise online, and develop a strong social media presence.

"Mentoring was definitely what helped me the most," she says. "My two mentors taught me a lot about Facebook and Google. I wasn't a beginner in either, and the detailed and enormous knowledge helped me a lot. Our homepage definitely wouldn't be what it is now, and we wouldn't be found as easily on Google, if I hadn't had mentoring."

In addition to the knowledge of the mentors, Franziska appreciated the program's capacity to customise mentoring to her individual needs.

This flexibility provided even greater value in the face of the pandemic.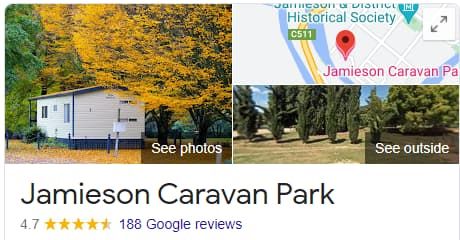 The Jamieson Caravan Park is located three hours from Melbourne in the Victorian High Country. A town for all seasons, Franziska and her husband bought the park in 2016 as an ideal place for guests to relax in nature. Unfortunately, like many local businesses in this regional town, the park relies heavily on tourism. After a series of lockdowns and restrictions that have continued into 2021, the caravan park has struggled with a loss of business and staff.
With every lockdown that necessitates the park to close its doors, the business loses thousands of dollars in bookings. It therefore became even more critical for Franziska to keep the caravan park on the radar of potential guests in the form of online marketing. She learned this through the Business Resilience program, the dedicated COVID-19 stream of the Digital Solutions program.
"Online marketing is something very exciting for me and it helps to focus on something fun," she says. As for whether she recommends the program to others: "Yes, absolutely!"
Jamieson Caravan Park
I'm already an
ASBAS Digital Solutions member.
I'm new here.
I want to register for the program.
Member's Portal Update

All existing Digital Solutions (previously ASBAS Digital Solutions) program members received an email with a direct link to claim their member account. If you are having trouble claiming your new account, please email [email protected].
Digital Solutions Mentoring Access Code

On the next page you will be prompted to enter the following Access Code:


ASBAS2021
Digital Solutions Mentoring Notice


Thank you for your interest in our mentoring services. Please note, our mentoring services are currently unavailable. We will keep you posted when they will resume.



Created with