"It's not just monkey see monkey do at Eastern Kung Fu Academy," says Jo Poon, who has been co-running the academy with its founder and Head Instructor Sifu Peter Atkin since 2018.
Located in Boronia, Melbourne, The Eastern Kung Fu Academy was founded in 2004 and has remained a family-run business ever since.
Teaching a mixture of practices including Wing Chun Kung Fu, Yang-style Tai Chi and Kid's Kung Fu, Eastern Kung Fu isn't like other academies.


"We focus on the student's development of martial arts skills and not the ego of club-winning tournaments," Jo explains.

"Being your best is our focus. We have a unique Kung Fu family culture where we all help each other out to progress with respect, tolerance and consideration - whether you're a beginner or an advanced practitioner."
Eastern Kung Fu Academy goes above and beyond the common 'monkey see, monkey do' approach to evoke a deeper understanding of the discipline in their students.

"We explain the what, where and when of technique application. Students have an opportunity to ask questions and discuss the methodology of the techniques. They receive a detailed, logical, effective answer for a more informative and effective martial arts development."


The academy progresses their students safely from beginner level to advanced. Jo says the idea is to intensify when the student is ready, rather than forcing them.
"It reduces the risk of injuries and mental anxiety with training. We also have a women's only kung fu session run by a female instructor for women who feel more comfortable training only with other women."


For Jo, the academy is quite literally a dream come true.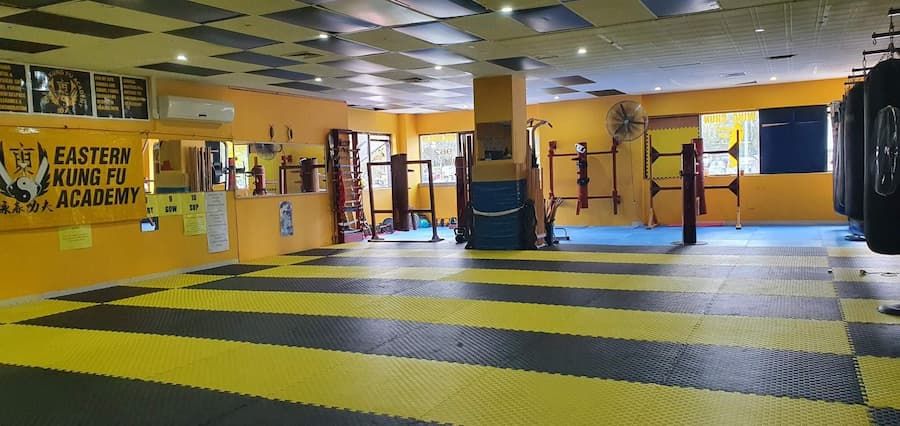 "Teaching Kung Fu is my dream job. The most rewarding part is being able to share the many benefits the art of kung fu has to offer, and see the improvement of all students - whether they are children or adults. Our passion in life is to our kung fu practice, we train to ascend our mental and physical skills, to improve our general wellbeing and - if needed - defend ourselves."
When COVID-19 hit, Eastern Kung Fu Academy was forced to run their classes online via Zoom. Their primary method of engaging with students was via Facebook posts, but the business owners didn't have much understanding of the different platforms and how to use them effectively.

"We had no digital strategy mapped out. We just knew that many of our students used social media and we wanted to extend our reach, get better engagement, and have a better online presence."
"We also had the desire to develop and implement a digital marketing campaign to generate more leads and attract new members to the school."


"We decided to join the program to learn more about different online platforms, ways to improve our digital presence and better position our business online. We wanted to understand more about SEO, Google business and to drive more traffic to our website and increase leads."

And what did they learn?


"Where do I start? We learnt so much! We have found the mentoring sessions through the digital solutions ASBAS program invaluable! We learnt to create Facebook posts and profiles with the purpose of optimising our digital real estate, boosting engagement, and informing and educating our target audience.


"We learnt so many things that we could do to improve our business listing on Google. We learnt about SEO and the different tools we could use to improve our website and better understand our customers."

Throughout the program, Jo and Peter gained more clarity about their strategy and what must be implemented. They have decided to continue mentoring to help them on their journey to help Eastern Kung Fu Academy recover and grow.


"We have implemented some changes on our website to improve the user experience, and optimised for SEO. There is still much to do, and we are continuing to make improvements and implement changes."

"Before the Digital Solutions program, our school wasn't even coming up on a Google search - and our Google rating was not very high. Since we have implemented the changes for Google business, we now come up first on Google in our area.


"The mentors were very supportive, knowledgeable and resourceful. They provided simple solutions that were easy to implement - even for people like us who do not have much knowledge of the digital world."

Jo and Peter are continuing their transformation to an online business. Would Jo recommend the program?


"Yes! We most definitely would recommend the Digital Solutions program. Especially for small business owners, even if you only learn a few things to improve your business it will be worthwhile."
I'm already an
ASBAS Digital Solutions member.
I'm new here.
I want to register for the program.
Member's Portal Update

All existing Digital Solutions (previously ASBAS Digital Solutions) program members received an email with a direct link to claim their member account. If you are having trouble claiming your new account, please email [email protected].
Digital Solutions Mentoring Access Code

On the next page you will be prompted to enter the following Access Code:


ASBAS2021
Digital Solutions Mentoring Notice


Thank you for your interest in our mentoring services. Please note, our mentoring services are currently unavailable. We will keep you posted when they will resume.



Created with