Andre Sardone joined the Digital Solutions program in January 2020 with his small business in creative sculpture. Inspired by the Greater Bendigo National Park that surrounds his property in Mandurang,

Andre uses waste and recycled steel to create unusual, long-lasting sculptures.

"The things I learnt at the Digital Solutions certainly helped me."

Andre first exhibited his work in Melbourne in 2004. His sculptural style has gone through many evolutions since to reach his current diverse practice that includes kinetics and applied mechanics.

"My artwork has found a place both in gardens and fine art galleries, and the sales are now becoming more consistent—despite the lack of opportunities to exhibit my work in 2020," Andre says. "COVID-19 has resulted in a shift to online opportunities."

Andre was somewhat active on social media prior to the pandemic, but knew he needed some guidance on how to make the most of the power of these platforms.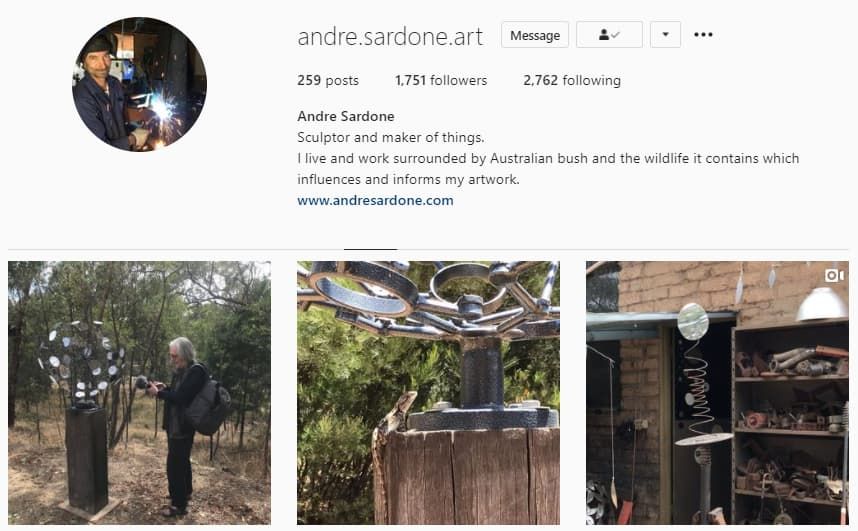 "When I heard of the Digital Solutions program, I thought it was something that could help." Andre took advantage of the mentoring sessions offered by the program with an expert in social media.
"Through my sessions with Bryley, I learnt a lot about the differences between various social media platforms and how to best use these to present my work."
As a consequence of the pandemic, all the exhibitions Andre had planned for 2020 were cancelled. The only place he could display his work was online.
"The things I learned through the Digital Solutions certainly helped me in this transition," he says. "It helped me work out what I wanted to achieve from my social media. Sales were not my highest priority—it was more about promoting awareness of my artwork and inspiring people to follow their passions."
Despite the challenges Andre faced in 2020, he remains certain about the purpose and transformative power of his work. "Art can turn an unused space into a place where people want to be," he says, "and give them a connection to that space."
"I'm working hard to follow my path and bring my art to the world."
Andre Sardone art website
I'm already an
ASBAS Digital Solutions member.
I'm new here.
I want to register for the program.
Member's Portal Update

All existing Digital Solutions (previously ASBAS Digital Solutions) program members received an email with a direct link to claim their member account. If you are having trouble claiming your new account, please email [email protected].
Digital Solutions Mentoring Access Code

On the next page you will be prompted to enter the following Access Code:


ASBAS2021
Digital Solutions Mentoring Notice


Thank you for your interest in our mentoring services. Please note, our mentoring services are currently unavailable. We will keep you posted when they will resume.



Created with